1.)  Whitening Products
Whitening doesn't stop at your teeth in Thailand.  Just about every product that goes on your skin has a whitening solution in it as well.  Deodorant, face wash, sunscreen, soap, shaving cream, and lotion all help lighten your complexion.  In fact, it's actually pretty hard to find a product that doesn't bleach your skin, and when you do it's generally twice the price.  Crazily enough, most of these whitening solutions are made from snail mucus.  Considering how prevalent this is I imagine massive armies of snails being milked for their slime.
2.)  Gender Specific Greetings
We say "Yes Sir", or "Yes Ma'am" in the US based on who we are talking to.  However, in Thailand greetings are based on your own gender.  So if you're a female, then you would say sawadee ka.  If you are a man you'd say sawadee khap.  I assume this has something to do with ladyboys.  Gender confused individuals get to choose how they are perceived by society by pronouncing their hellos based on their preferred sex.  It also takes the confusion out of addressing women who might not actually be women, like Caitlin Jenner.
3.)  Motorbikes Everywhere
There are so many motorbikes in SE Asia.  I mean, there are millions of them.  It might be illegal to not own a motorbike.  Major cities like Bangkok even have specific motorbike lanes on the sidewalks right next to the walking path.  I'm pretty sure the hospitals are crammed packed with motorcycle accidents.  We've definitely seen our fair share!  Luckily I think it's against the law to run over pedestrians, so you can usually just close your eyes, walk across the street, and the motorbikes part around you like water.  Don't expect the same for cars.
4.)  Eating with Spoons
Ok, eating with a spoon isn't too outlandish.  What's strange is the fact that forks are widely abundant and people still use spoons for everything.  In fact, forks are only used to scoop things onto the spoon which is then shoved into your mouth.  Sure, you can try and be all authentic and messily pinch your pad thai with chopsticks, but the spoon has been in the land of smiles since the 19th century.  There is no reason to use chopsticks if you don't have to.  That's what the spoon is for.
5.)  Buddha Heads are Disrespectful
I feel like I've seen plenty of mini Buddha head statues back home.  People use them for lawn ornaments or to bring some spirituality to their chic hipster studio apartments.  Unfortunately, this is viewed as offensive to those who actually practice Buddhism.  It's similar to keeping an inverted cross in your home next to your flaming pentagram.  Some people just don't like it.  Burmese invaders would commonly chop off the heads of statues in the cities they conquered.  To this day Thailand is covered with headless statues that look rather dull.
6.)  Lottery Ticket Sales
Lottery tickets are sold to national wholesalers who then sell them to local retailers.  These are generally just individuals who roam around village markets carrying slim wooden briefcases full of lotto slips.  These vendors almost always mark the price up depending on where they're selling them.  Tickets outside of large shops usually cost quite a bit more.  Tickets in worn down areas of town can be quite cheap.  It's also not uncommon for them to increase the price on 'lucky' number combinations while cutting deals on unpopular ones.  Ticket sales help fund charities such as the Red Cross and most lottery retailers are disabled or diseased individuals themselves.
7.)  Light Switches Are Outside Rooms
I understand that there are perhaps safety reasons for placing a light switch outside a bathroom.  Electrocuting yourself by flipping on a light with wet hands would suck.  However, this never seemed like an issue in America where there are decent electrical standards.  That's not the case for Thailand though.  Truthfully, I've consulted the oracle and we both predict that all of SE Asia will burn to the ground in the Great Electrical Fire of 2052.  Besides that, it's not uncommon for every light switch in the house / hostel / apartment to be outside of the room it controls.  I still don't know why other than to be able to prank people lounging inside.
8.)  Ketchup or Chili Sauce on Everything
Let's say you order a pizza in Thailand.  What do you think comes with it?  Ketchup.  Maybe a ham sandwich?  Ketchup.  A steak dinner?  A mango pancake?  Ketchup.  Ok, you get the point.  Thai people like to put Ketchup or Chili Sauce on just about anything that's edible, and Asians truly eat anything.  Every restaurant table across the whole country has at least one bottle of ketchup sitting on it.  It's pretty much disgusting and there is no answering why this is so beyond personal preference.
9.)  They Love Their Emperor
The Thai monarchy is one of the last living examples of an Imperial Cult.  They worship their king like he discovered oil, invented agriculture, built the combustible engine, and hung the moon all on the same day.  I'm not joking.  We went to the National Science Museum in Bangkok and literally every modern advancement in any field of science or technology was contributed to his majesty.  If that's not enough to remind you how great he is, then the large billboard-sized posters scattered on every block should get the message across.  They love their king.  Plus, since 'tainting the splendor' of the monarch is punishable by many years in prison, I must add that he did in fact invent every modern convenience known to man.  Truth.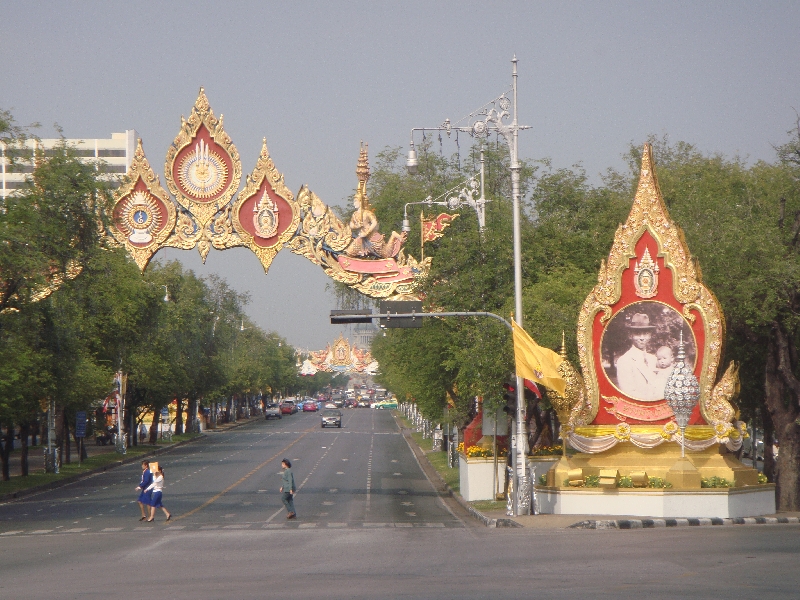 10.)  Don't Flush the Toilet Paper
Every bathroom in Thailand has been specifically designed by the king to not accept toilet paper.  This may seem like an inconvenience, but it is in fact purposefully planned in an effort to add more highly degradable waste to the local landfills instead of uselessly sending it to septic tanks.  This helps increase biodegradation for the massive amounts of plastic discarded by the common people.  – Ok, maybe I'm joking!  The sewage systems just aren't very good and they can't handle toilet paper.  Instead there is a water hose you use to spray yourself and, well, if you're lucky enough to find a bathroom with toilet paper, then just throw it in the trash after use